Shifting the Fashion Narrative: Rethinking aspiration in a world of overconsumption
November 23, 2022 @ 3:00 pm

-

4:30 pm

UTC+2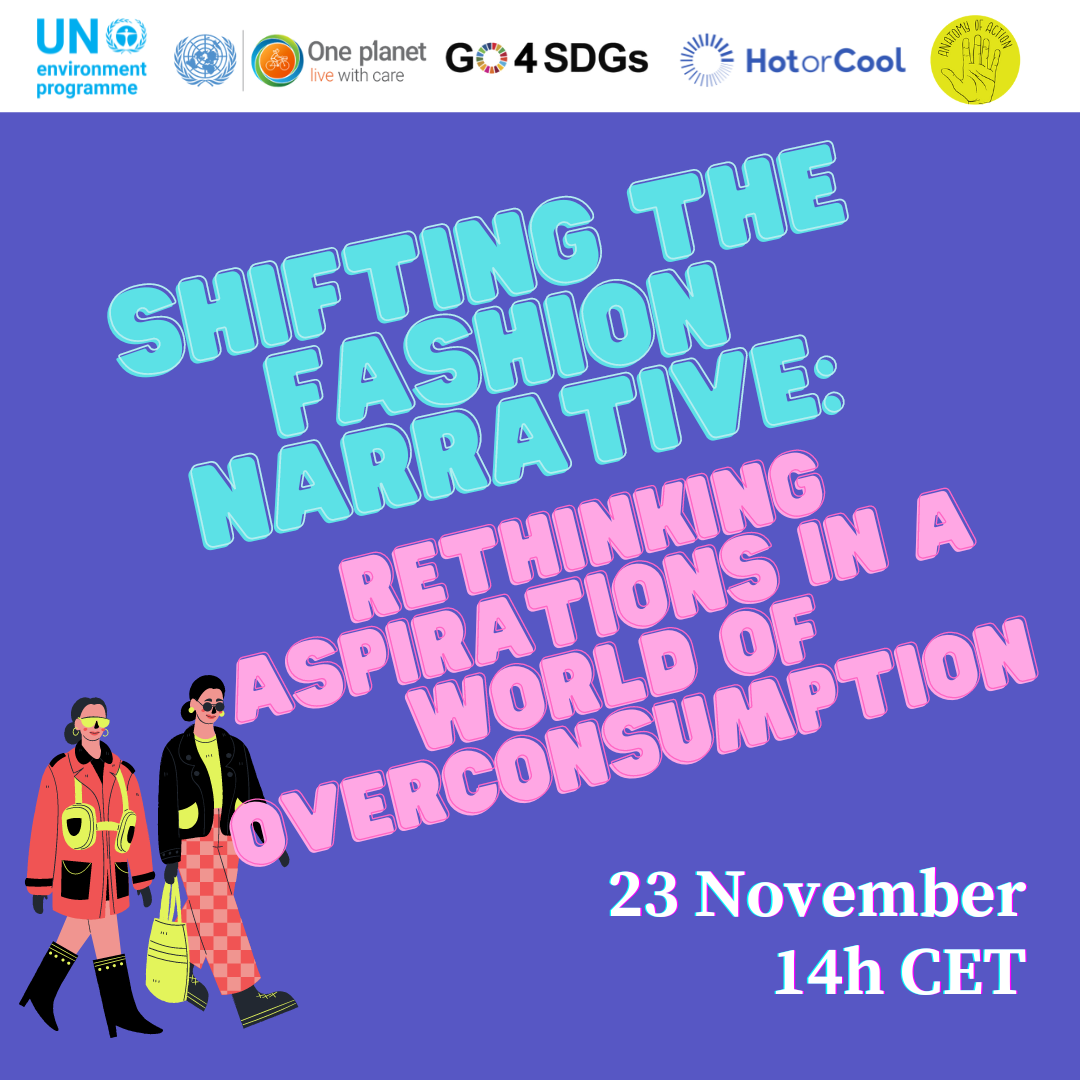 When: 23 November 2022, 14:00 to 15:30 CET
Registration: https://bit.ly/JoinShiftingFashion
In less than a decade, Black Friday has become a global event, incentivizing overconsumption and impacting the environment. But we also see a growing movement to boycott Black Friday, with numerous brands refusing to participate in the discounts. The main question is, 'How can consumer passion for a good fashion deal be harnessed for a sustainable future?' This event will highlight that consumption change is where the most significant need and opportunity for sustainability lies. It will showcase speakers from the forces that influence consumption and shape aspirations, underscoring areas for hope and defining where we should focus our efforts.
The event will explore:  
What is driving the increase in unsustainable consumption of textiles?
What are the evidence-based priority fashion solutions for the planet to address overconsumption?
What lighthouse actions are underway and can be upscaled to achieve sustainable consumption?
How can we reimagine new, aspirational visions for a (sustainable) fashion future and communicate those?
For whom?  
This event is for all actors involved in the textile value chain; policymakers, the private sector (including SMEs), civil society, technical organisations, and interested individuals. The webinar is of relevance to all those communicating on sustainable fashion with consumer audiences. This includes agencies, fashion and news media, image-makers, digital platforms, influencers and educators, from Small and Medium Enterprises (SMEs) to multinationals worldwide.
Why is fashion critical to a sustainable future?
The textile and fashion industries are globally significant, providing economic growth, employment, revenues, and products essential to human welfare. Yet fashion is also central to human aspirations; what brands share influences what and how much we consume. The world is producing and consuming more textiles than ever, and the low reuse and recycling rates also mean more waste. The shift to circular business models is critical in delivering sustainability for the industry and requires global approaches ensuring a just transition with entirely new visions and radically different ways of doing business.
UNEP's strategy for the fashion sector and textile value chain
UNEP's strategy outlines the imperative for the fashion sector and the broader textile value chain to become "radically and rapidly transformed to become circular, including reducing consumption and production impacts whilst increasing the utility gained from each product." UNEP's upcoming sustainable fashion playbook highlights the role of consumer-facing storytellers and the power of shifting the narrative to strengthen demand for a positive fashion future. It focuses on leading with science, changing behaviours and practices, reimagining values and driving advocacy. This event will bring these strategies to life.
Organisers:
Agenda 
14:00 Opening statements
Moderator: Rachel Arthur, Advocacy Lead Sustainable Fashion, UNEP
Opening statement:  Adriana Zacarias, Head of Global Opportunities for Sustainable Development Goals (GO4SDGs), and Deputy Head of the 10YFP Secretariat, UNEP.
14:15 Lead with science
Luca Coscieme, lead researcher, Hot or Cool Institute (Hot or Cool will release the report "Unfit, Unfair, and Unfashionable: Resizing Fashion for a Fair consumption Space", that links changes in fashion lifestyles to measurable impacts on climate change to keep with the 1.5-degree aspirational target of the Paris Agreement)
14:20 Panel discussion
Change behaviours and practices

Lucy Shea, CEO, Futerra
Jalal Moghraby, Instructor at the School of Architecture and Design, Lebanese American University
Reimagine values

Luz Lancheros, Portal Nueva Mujer- Metro World News, Fashion Editor Latin America
Drive advocacy

Alec Leach, author of 'The World Is on Fire, But We're Still Buying Shoes'
15:00 Questions and Answers session
15:25 Closing remarks: Elisa Tonda, Chief Resources and Markets Branch, UNEP (TBC)